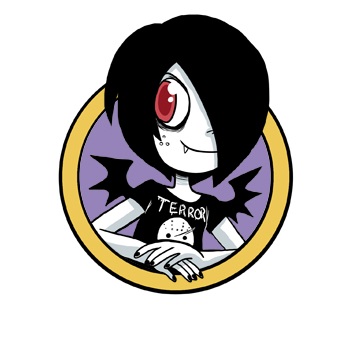 OZZADEEN "OZZIE" CORTOZZO
D.O.B.:
October 31
Bloodtype:
--
Favorite Food:
Blood
Favorite Drink:
Blood
Favorite Band:
Girlschool, Angelwitch
Ozzie used to be a normal (well, subjectively) art student before one day she woke up and found herself with pale white skin, glowing red eyes, super strength and a searing pain in her neck. Despite becoming a vampire, with the infinite powers of the night howling through her body, she has chosen not to feed on humans but rather use her devilish strength to defend her hometown from the sudden onslaught of demons that threaten it. And perhaps along the way she will find the vampire that decided to make her a snack... and also still manage to still pass her classes and graduate...
SPECIAL NOTE:
Is a fourth-degree black belt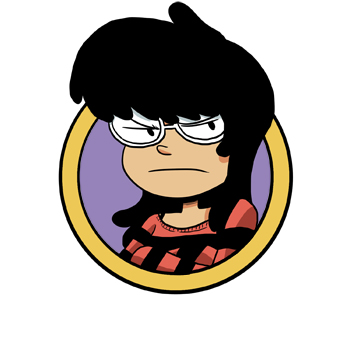 KIMMY HOWELL
D.O.B.:
April 20
Bloodtype:
O
Favorite Food:
Pizza
Favorite Drink:
Coffee, Tea, anything with caffeine in it
Favorite Band:
You probably haven't heard of them
Ozzie's best friend since the sixth grade, the ever-cantankerous Kimmy lives life with a perpetual scowl on her face. But it's not her fault that existence doesn't live up to her immense standards. Her best friend becoming a hellacious blood-sucking wraith could be cool, except now she's stuck having to assist her in her nightly demon-slaying activities. Kimmy's human body allows her to utilize the grimoire Grimsley to seal away demons defeated by Ozzie. Together, the two make a somewhat effective demon huntin' duo when they aren't causing devastating amounts of property damage.
SPECIAL NOTE:
Has a severe caffeine addiction, Kimmy will not disclose how much money she spends on coffee a month.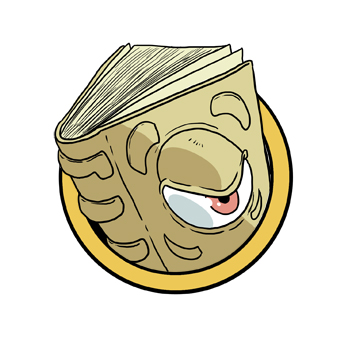 GRIMSLEY
D.O.B.:
A Long Ass Time Ago
Bloodtype:
--
Favorite Food:
--
Favorite Drink:
--
Favorite Band:
--
One of the earliest "Grimoires", weaponized magic books designed to help fight off and seal demons, Grimsley dates all the way back to the crusades when humans and demons were truly having it out. Since those days he has been completely dormant, but the recent demon activity in the present woke him from his slumber. He now finds himself reluctantly having to work with Ozzie and Kimmy to fend off the demon menace, seeing how his clan is nowhere to be found. Luckily he is able to put aside his bias against hellspawn to work with Ozzie. Unluckily, the two are unpredictable, unreliable and near-completely inept, which makes him long for his previous master.
SPECIAL NOTE:
Does not smell nearly as musty as you'd think.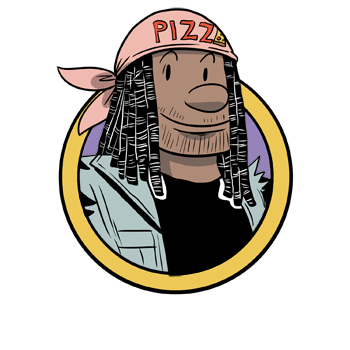 AUSTIN JONES
D.O.B.:
November 11
Bloodtype:
A
Favorite Food:
Burritos
Favorite Drink:
Beer
Favorite Band:
Painkiller, Godflesh, Scorn
Ozzie and Kimmy's friend, neighbor and classmate. He's not nearly as interested in demons and the supernatural as he is in meeting cute girls.
SPECIAL NOTE:
Ozzie first tested out her strength on Austin's jeep. It did not survive.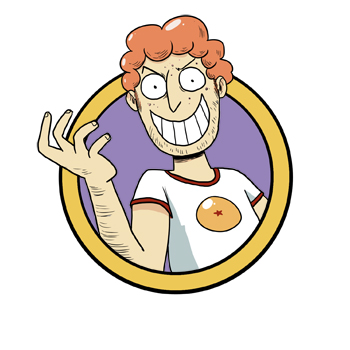 STEVE HUERTAS
D.O.B.:
March 2
Bloodtype:
B
Favorite Food:
???
Favorite Drink:
???
Favorite Band:
Bruce Faulconer DBZ soundtracks
A classmate of Ozzie and Kimmy whose boundless optimism and obliviousness never ceases to annoy them. It's not entirely clear if Steve is really all that obnoxious, or if Ozzie and Kimmy simply refuse to give him a chance, but either way it doesn't matter now(RIP). Or maybe we haven't seen the last of Steve...?
SPECIAL NOTE:
He is an avid fan of fight manga.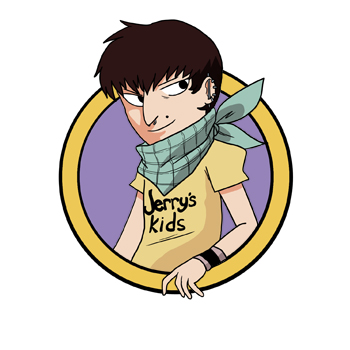 Nora Steel
D.O.B.:
December 5
Bloodtype:
AB
Favorite Food:
Nothing in particular
Favorite Drink:
Tea (she's a total tea snob)
Favorite Band:
Look Back And Laugh, Born/Dead, His Hero Is Gone
Nora works at the local record store Vinyl Fantasy Seven during the day, and organizes and promotes punk gigs during the night. Austin has a crush on her, though she is oblivious to this. In her spare time she also self-publishes her own zine called "Rats".
SPECIAL NOTE:
She has worked at Vinyl Fantasy Seven for over ten years.